Featured pic: 29th Battery, Australian Field Artillery, 5th Division, thought to have been taken in England during the Great War. EHS 02440.
As part of the commemoration of ANZAC Day, here are some prominent service personnel linked to Moonee Valley.
MAJOR GENERAL HAROLD EDWARD "POMPEY" ELLIOTT, CB, CMG, DSO, DCM, VD (1878 – 1931)
Prominent in the Militia, Boer War, Great War and post war.
Harold Elliott joined the officers' corps whilst studying at the University of Melbourne.
In 1900 he enlisted in the 4
th
Victorian (Imperial) Contingent, serving in South Africa in 1900-02. He was awarded the Distinguished Conduct Medal for an audacious night exploit and was commissioned. He was also mentioned in despatches.
He returned to the military in 1904 as a Second Lieutenant in the 5th Infantry Regiment (Militia). In 1913 he was appointed Lt Colonel of the 58th Battalion (Essendon Rifles) in the new universal training scheme.
When the Australian Imperial Force was being raised in August 1914, Elliott was appointed to command the 7th Battalion in the 2nd Brigade. On April 25th, 1915, the day of the Gallipoli landing, Elliott was wounded and evacuated, not returning to the action at Gallipoli until mid-June.
On March 1, 1916, he was given the task of organising the 15th (Victorian) Brigade in the new 5th Division and promoted brigadier general. In July Elliott began his service on the Western Front where he fought in most of the great battles of the A.I.F. He was wounded again in August 1918 but remained on duty.
Since 1915 he had been appointed C.B. and C.M.G. and had been awarded the Distinguished Service Order, the Russian Order of St. Anne and the French Croix de Guerre. He was mentioned in dispatches seven times and in a special order of the day by the commander of the French 31st Corps.
After the war, Brigadier-General Elliott made many visits to the Essendon district including unveiling Honour Boards and presenting certificates to returned servicemen. He was promoted major general in 1927. Elliott Street in Ascot Vale is named after him. Source: Famous Essendonians, EHS
LILIAN JANE RUTHERFORD RRC (1873-1961)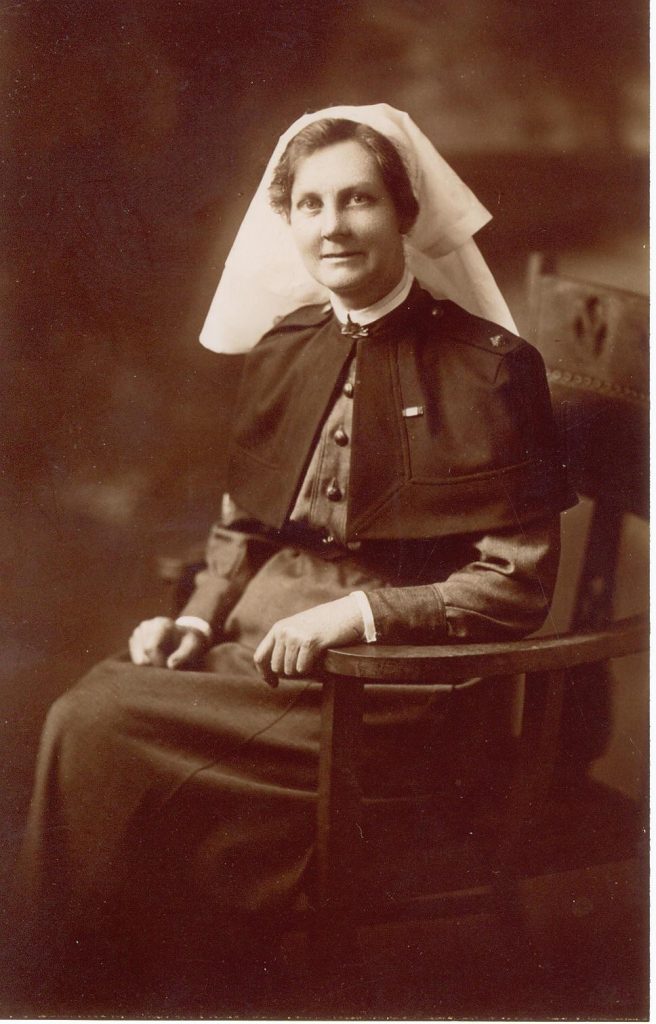 Pic: a 1919 portrait of Lilian Rutherford, from a postcard taken at the Leighton Studios in Moonee Ponds not long after her return home. 00914 Photo Courtesy of The Australian War Memorial
A trained nurse who joined the Australian Army Nursing Service and served with distinction in military hospitals in Greece and Britain.
Lilian (Lily) Rutherford lived at 90 Fletcher St, Essendon and attended Essendon Primary School and was a member of St Johns' Presbyterian Church.
Rutherford enlisted in the Australian Army Nursing Service and sailed on the Mooltan in May 1917 for Salonika and was stationed at the tent hospital in Hortiach. Staff Nurse Rutherford was awarded the Royal Red Cross Decoration for her service in Salonika. Later she was appointed to the Australian hospital at Dartford, Kent. Rutherford nursed on the troopship Orita which arrived in Melbourne in June 1919. She then returned to nursing in Essendon
In 2013 the Moonee Valley City Council named Rutherford Street, Aberfeldie after Lilian and her younger brother Norman and younger sister Linda who all served overseas. Ref: EHS Newsletters 154, 224
WILLIAM CHARLES SCURRY MC, DCM, AVSS. (1895-1963)
Inventor of the self-firing rifle device that enable the safe evacuation at Gallipoli.
William Scurry was educated at Ascot Vale State School. After two years in the Senior Cadets and a year as a Colour-Sergeant in the Militia, he was commissioned Second Lieutenant in the 58th Infantry (Essendon Rifles) in May 1914. Enlisting in the Australian Imperial Force as a private on July 19th, 1915, Scurry embarked in August with the 8th Reinforcements for the 7th Battalion and joined his unit at Gallipoli on November 11th.
He was promoted to lance corporal on December 4th. Once he was satisfied that rumours of an evacuation from Gallipoli were sound, he began to wonder what would happen to the troops in the boats and on the pier once the Turks realised what was happening.
Scurry began experimenting with a self-firing rifle device. After demonstrating his invention to Headquarters staff he was told that the rifles would be used – twelve on each battalion front, over eight battalion fronts in the final stage of evacuation. The self-firing rifles were fixed in the trench lines on the night of December 19-20 December. His "pop-off" rifle had foiled the Turks and the evacuation was successful.
In recognition of his invention Scurry was awarded the Distinguished Conduct Medal and was mentioned in despatches. In Egypt, in January 1916, he was promoted to sergeant and on February 20th was commissioned second lieutenant. Transferred to the 58th Battalion in March, he was promoted lieutenant in June and went to France that month.
He formed the 15th Light Trench Mortar Battery as temporary captain from July 5th. Just a fortnight later he used his eight guns with considerable effect during the battle of Fromelles. He commanded the battery until he was wounded at Petillon on September 3rd while examining a new type of fuse on an unexploded German bomb. The device blew up, injuring him in the chest and face and shattering his right index finger which was later amputated. Fragments of metal blinded his right eye and he was evacuated to England. For his work with the battery, Scurry was awarded the Military Cross and confirmed as captain in December.
In World War II he served as a captain, then a major, in the 17th Garrison Battalion and was a commandant at Tatura Internment Camp. Source: Famous Essendonians, EHS
ISSY SMITH VC (1890-1940)
After migrating to Australia, Issy Smith served in the Great War, winning the Victoria Cross.
Smith was born in Constantinople, Turkey of Russian heritage from an area that is now Ukraine. He stowed away to Britain where he changed his family name and adopted England as his country of birth.
He enlisted in the 6th Militia in 1904 aged 13 ½ years old as a '18-year-old'. Later in the same year he enlisted in the Manchester Regiment again as a '18-year-old'. He served in the Channel Islands, South Africa and a mostly in India before he completed his military service in 1912. He transferred to the Army Reserve and in June 1914 migrated to Australia.
He got a job with the Metropolitan Gas Company and boarded with Joseph Tallents who was his Superintendent, at 10 Brisbane St Ascot Vale.
On the day World War I broke out, Smith presented to Victoria Barracks. He was not permitted to join the AIF as Britain wanted its "Imperial Reservists" and he re-joined his regiment. He was awarded the Victoria Cross for conspicuous gallantry on 26 April 1915 near Ypres. On his own initiative, and under enemy fire, Smith recovered wounded soldiers from the battlefield, dragging them 250 yards to safety. The citation to his medal reading "with the greatest devotion to duty regardless of personal risk". Smith's medal was presented to him by King George V. He was also awarded the prestigious French Croix de Guerre and the Russian Cross of St George.
He became famous in Britain and Australia. He attended the marriage of Princess Mary, the only daughter of King George V and Queen Mary and later he was a guest at the wedding of Lady Elizabeth Bowes-Lyon to Prince Albert, Duke of York – the future King George VI and Queen Elizabeth.
Smith returned to Australia in 1921 and finally in January 1927. He lived in 46 Margaret St, 10 Grace St and 54 Derby St Moonee Ponds. He was an active spokesman for veterans, a Justice of the Peace, and a political candidate. Source: RatBag Soldier Saint, Lian Knight 2022
COL. NELSON FREDERICK WELLINGTON (1889-1952)
Awarded the Military Cross in WW1 and Distinguished Service Order in WW2. Essendon Town Clerk.
Nelson Wellington's served as Assistant Town Clerk for the Ballarat Council. He joined the Australian Infantry Regiment at Ballarat in 1905. Wellington enlisted with the Australian Imperial Force during the Great War and was awarded the Military Cross for his bravery in battle at Ypres. (Belgium).
Wellington was appointed as Town Clerk of the City of Essendon in October 1926. Wellington was also appointed as the Officer in Charge of the Essendon based 58th Battalion in 1935 and in May 1940 he was appointed Commanding Officer of the 2nd/2nd Pioneer Battalion. He was farewelled in June 1940 and served with his battalion until April 1945. While on active service he was awarded the Distinguished Service Order for services to the A.I.F. while serving in Syria and was promoted to the rank of Colonel in July 1942. Under his command the 2/2 Pioneers won more decorations than any other battalion in service overseas and in the Pacific Islands during the Second World War. The D.S.O. was presented to him on his return to Australia when he retired from active service due to war injuries.
In June 1946 he resumed his duties as Town Clerk of the City of Essendon, and continued in this capacity until ill health, brought about by his war service, forced him to resign from office.
He lived at the Junction Hotel, Moonee Ponds, 57 Aberfeldie Street, Essendon and 23 Learmonth Street, Moonee Ponds. Source: Famous Essendonians, EHS
Notable Past Residents
Essendon Historical Society (EHS) is compiling a list of Notable Past Residents of Moonee Valley and the Parish of Doutta Galla. More information is available from the EHS.