The Essendon Historical Society held its 2020-21 Annual General Meeting on 23 November 2021.
Retiring from the EHS Committee were Mary Cahill, Bill Mundy and Greg Thege. Joining are Darryn Hartnett, Cate Hutchings and Emeritus Prof. Charles Sowerwine.
The Meeting discussed future projects and the use of a bequest. We were very grateful to learn in March 2021 that EHS was the recipient of a bequest from the estate of the late John Williams, a former Councillor and Mayor of the City of Essendon.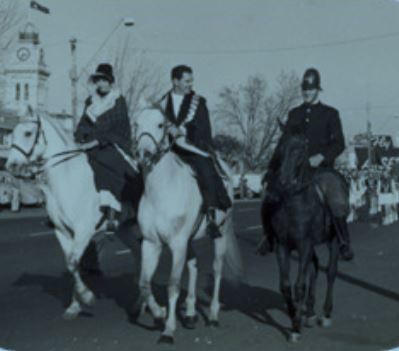 Left: As Mayor, John Williams was instrumental in helping to establish the Royal District Nursing Service's headquarters on the corner of Grice Crescent and Mt Alexander Road, Essendon, in 1966.
This was originally the site of the first of ten Shelters built by Caroline Chisholm to provide a safe stop-over for diggers and their families in 1855.
Finding a suitable RDNS site in Essendon was celebrated with much fanfare and pageantry which included John (in Mayoral robes) riding a horse from the Moonee Ponds Town Hall to Grice Crescent.
Additional information can be found in the EHS Newsletter No. 258 April – June 2021.
EHS General Meetings are generally held on the fourth Tuesday of the month at 7.30pm at the Moonee Ponds Court House Museum, on the corner of Mount Alexander Road and Kellaway Avenue.