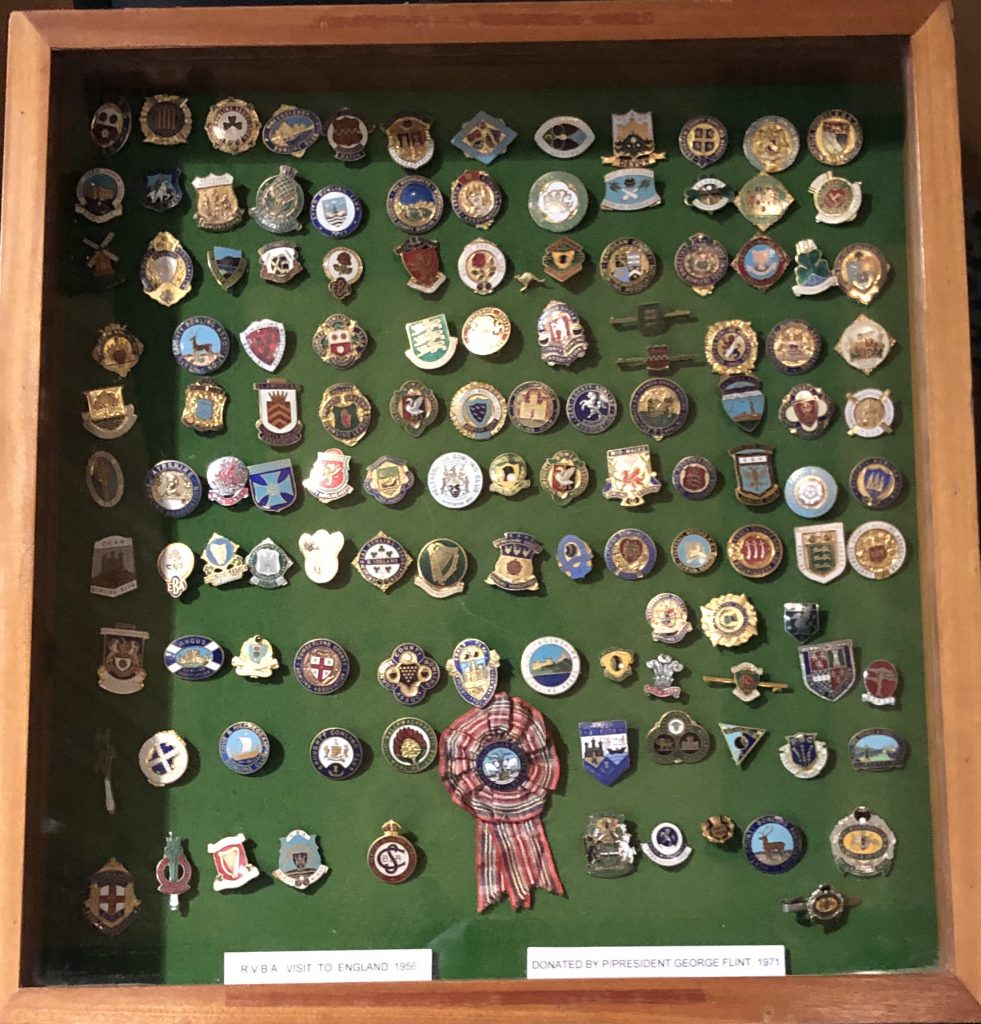 AUGUST 2022: ANNUAL GENERAL MEETING AND LYNDALL BYRNE AND EHS's BADGE AND MEDALLION COLLECTION.
The Annual General Meeting highlights were the presentation of the 2021-2022 Annual Report and Amanda Watson joined the committee.
Lyndall demonstrated the labelling and storage solution she has completed for the collection. She highlighted a number of items including the oldest, an 1824 button from a 40th Regiment of Foot tunic. The large collection includes military, school, sporting and cultural badges and medallions donated to the EHS.
JULY 2022: GUEST SPEAKER JULIE SCOTT AND BILLS HORSE TROUGHS
Julie first took an interest in Bills Horse Troughs while investigating the horse trough located on the Moonee Ponds Court House site.
Much of human history and development has relied on horses who relied on water. The nineteenth-century saw the growth in benevolent public horse trough installations across the world.
These troughs are peppered throughout the Australian landscape. Many horse troughs commemorate war horse service, such as the Purple Cross Horse Trough at the Shrine of Remembrance in Melbourne. Another iconic trough is the Seymour Light Horse Park which watered horses who served in the Boer War and WWI while in camp. Similarly, the Mentone Station Memorial Trough commemorates Violet Murrell, Victoria's best equestrienne, who died trying to save her favourite horse, Garryowen, among others in 1914.
Born in Brighton, England in 1859, George Bills migrated with his family to New Zealand and subsequently to Echuca, Victoria in Australia in 1873. After marrying fellow animal-lover, Annis Swann, the couple moved to Sydney, and George Bills went into business with his brothers, manufacturing innerspring mattresses. In 1908, George retired to Hawthorn, Victoria and in 1910, Annis died while the couple were visiting England.
George donated shelters for horses which were installed across Victoria, including at the MCG and on Russell St, Melbourne. Having no children, George's will created a trust fund with the purpose to fund the construction and installation of horse troughs throughout Australia and beyond. Applications for horse troughs flooded in. While the initial troughs were individually made, a standard design by J. B. Phillips (a Bills relatives) was soon adopted.
In the Essendon area, one horse trough was installed at the intersection of Buckley Street and Clarinda Road in 1931. It was, however, damaged in a motor accident in 1937. It was replaced and is thought to be the final Bills horse trough made by Rocla in Victoria. It would be relocated to the west side Mount Alexander Road (north of the corner with Hall Street). This may have been the horse trough which now resides at the Courthouse. Manufacture continued in NSW and even today, replicas are still manufactured.