JULY 2022: GUEST SPEAKER JULIE SCOTT AND BILLS HORSE TROUGHS
Julie first took an interest in Bills Horse Troughs while investigating the horse trough located on the Moonee Ponds Court House site.
Much of human history and development has relied on horses who relied on water. The nineteenth-century saw the growth in benevolent public horse trough installations across the world.
These troughs are peppered throughout the Australian landscape. Many horse troughs commemorate war horse service, such as the Purple Cross Horse Trough at the Shrine of Remembrance in Melbourne. Another iconic trough is the Seymour Light Horse Park which watered horses who served in the Boer War and WWI while in camp. Similarly, the Mentone Station Memorial Trough commemorates Violet Murrell, Victoria's best equestrienne, who died trying to save her favourite horse, Garryowen, among others in 1914.
Born in Brighton, England in 1859, George Bills migrated with his family to New Zealand and subsequently to Echuca, Victoria in Australia in 1873. After marrying fellow animal-lover, Annis Swann, the couple moved to Sydney, and George Bills went into business with his brothers, manufacturing innerspring mattresses. In 1908, George retired to Hawthorn, Victoria and in 1910, Annis died while the couple were visiting England.
George donated shelters for horses which were installed across Victoria, including at the MCG and on Russell St, Melbourne. Having no children, George's will created a trust fund with the purpose to fund the construction and installation of horse troughs throughout Australia and beyond. Applications for horse troughs flooded in. While the initial troughs were individually made, a standard design by J. B. Phillips (a Bills relatives) was soon adopted.
In the Essendon area, one horse trough was installed at the intersection of Buckley Street and Clarinda Road in 1931. It was, however, damaged in a motor accident in 1937. It was replaced and is thought to be the final Bills horse trough made by Rocla in Victoria. It would be relocated to the west side Mount Alexander Road (north of the corner with Hall Street). This may have been the horse trough which now resides at the Courthouse. Manufacture continued in NSW and even today, replicas are still manufactured.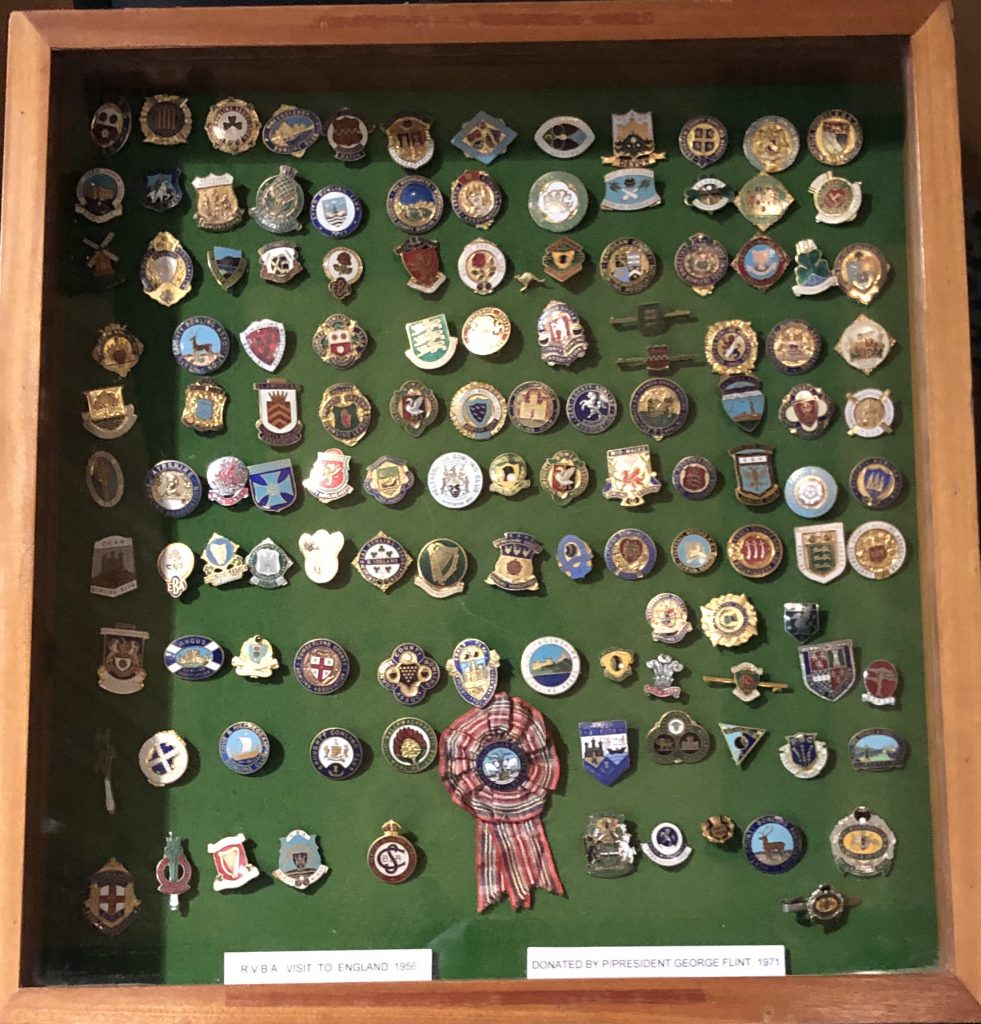 AUGUST 2022: ANNUAL GENERAL MEETING AND LYNDALL BYRNE AND EHS's BADGE AND MEDALLION COLLECTION.
The Annual General Meeting highlights were the presentation of the 2021-2022 Annual Report and Amanda Watson joined the committee.
Lyndall demonstrated the labelling and storage solution she has completed for the collection. She highlighted a number of items including the oldest, an 1824 button from a 40th Regiment of Foot tunic. The large collection includes military, school, sporting and cultural badges and medallions donated to the EHS.
SEPTEMBER 2022: GUEST SPEAKER TONY CAVANAGH AND THE MOONEE VALLEY RACECOURSE
EHS is grateful to the Moonee Valley Racing Club for hosting the meeting. The racecourse was established in 1883 by William Samuel Cox, who having relinquished Kensington Park Racecourse, leased and then purchased the land from John F. Feehan. Cox became the first secretary of the Moonee Valley Racing Club and, in 1922, was immortalised with the W. S. Cox Plate. Tony discussed the role of other members of the Cox family as well as A.V. Hiskens in the development of this successful racecourse,


OCTOBER 2022: GUEST SPEAKER SHEILA BYARD OAM AND THE COMMUNITY PLANTING IN ROYAL PARK, 1988.
Sheila is deeply involved with the Kensington History Group and is a passionate and tireless worker for women's causes.
The focus of her talk was the establishment of a grove of native trees and shrubs planted in Royal Park. The Bicentenary of European settlement in Australia was celebrated with a wide range of events. One was the planting of this "grove" adjacent to Flemington Road at Abbotsford Street on either side of the tram line at Royal Park.
Organised by the National Council of Women of Victoria, the plants were supplied by the City of Melbourne. The site and plaque were lost when the new Children's Hospital was built in 2010-11 and members are trying to re-locate remnants of it.
Sheila also spoke of the women who signed the petition to demand the right of women to vote and encouraged those present to find out more about the women involved and other women who were leading figures in their chosen walks of life.
The photo features EHS life members Elaine Brogan OAM and Eve Park at a 2001 Centenary of Federation event.
NOVEMBER 2022: GUEST SPEAKER: DR MADONNA GREHAN AND W. H. ARCHER'S SYSTEM FOR BIRTHS, DEATHS & MARRIAGES REGISTRATION IN COLONIAL VICTORIA, 1853
Historian Dr Madonna Grehan's talk discussed Victoria's compulsory Birth, Death and Marriages (BDM) Register and the surprising yet highly significant design and implementation by William Henry Archer (1825-1909).
Victoria's system for BDM registration was instigated by Victoria's first Lt Governor, Charles Joseph LaTrobe, and his administration. Victoria's BDM bill passed into law on 11 January 1853, to begin after 31 March 1853. The draft Schedule for Births Registration was rudimentary and happily this version was soon superceded, thanks to William Henry Archer, a self-assured actuary just arrived from England.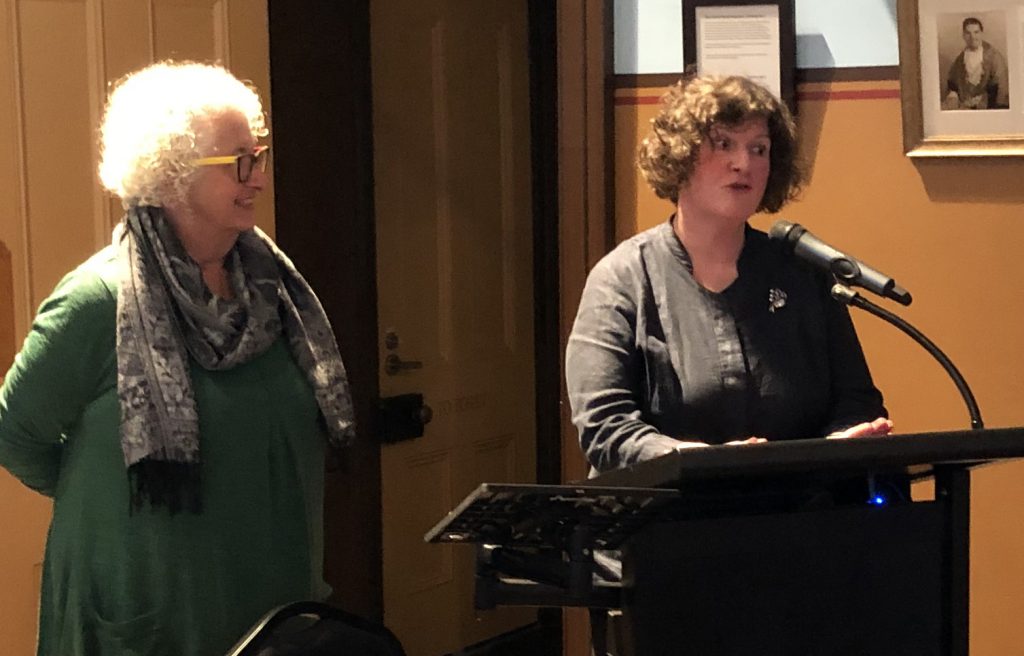 Archer emigrated to Port Phillip and arrived in the first week of November 1852. On Archer's third day in Melbourne, newspapers reported that the "Registrar General's" office was to record all births, deaths and marriages, to register deeds, and compile statistics.
Archer applied and eventually was offered a position as a clerk. On 25 February 1853, Archer received instructions from Captain William Lonsdale, Colonial Secretary, 'to draw up a general plan for the guidance of the Chief Registrar, and rules in detail for the Deputy Registrars'. Deputy Registrars were to be the officers responsible for registering births, deaths and marriages across Victoria.
Archer submitted his scheme a fortnight later, as a System of Registration and Statistics for the Colony of Victoria.
Archer was not only interested in who was born, when, where, and in what circumstances. He was interested in the environments in which people lived and recommended to Lonsdale that the registration districts align with established census districts.
Archer also recommended changes to the various BDM forms, expanding the information required about individuals. For instance, those attending at a birth were named; a medical attendant had to sign every death certificate, stating the duration of sickness, when the person was last seen by a doctor, and the cause of death taken from a Nosological Table of 95 possible options.
Archer aimed for as robust a system as possible. He first needed reliable district registrars and he declared a preference for doctors but where not possible, recruited others. He put in place processes and directions for registrars to follow including a specific type of ink issued by the Department, writing instructions, no erasures, mandatory copies and periodic inspections.
Archer's modifications to the BDM Schedules and his other recommendations delayed the roll-out of the registration system until 1 July 1853. The Registrar General's Department saturated Victoria with news of compulsory registration.
Archer's determination explains why the roll-out of the scheme was so successful. Archer travelled widely throughout Victoria on inspections. Madonna gave some examples of his trips to the Central Goldfields and to the Western District.
Within the space of five years, this complex regulatory tool of compulsory registration had become part and parcel of everyday life for Victorians.